Whether it's a quick meal fix, a dessert, or a savoury dish, the possibilities are endless when you have a multi-functional AEG microwave that can achieve the same level of deliciousness as any appliance — quicker, easier, and without compromising on results.
Here is a selection of microwave recipes that you should try.
Easy microwave cake recipes

Chocolate microwave mug cake recipe



Prep time: 5 min
Cooking time: 2 min
Serving: 1 person
Level: Easy
Nothing is sweeter than a chocolate craving satisfied — quickly and easily, with everyday ingredients already in your pantry.
For a vanilla microwave mug cake recipe, follow the instructions below, but omit the cocoa powder. Use ½ tsp of vanilla bean paste or extract instead of vanilla essence for a more concentrated vanilla flavour.
Ingredients:
4 tbsp self-raising flour
4 tbsp caster sugar
2 tbsp cocoa powder
1 medium egg
3 tbsp milk
3 tbsp vegetable or sunflower oil
A dash of vanilla essence
2 tbsp chocolate chips, nuts or raisins (optional)
1 scoop vanilla ice cream (optional)
Step 1: Dry ingredients
In an oversized microwave-safe mug, mix flour, caster sugar and cocoa powder. For any microwave mug cake recipe, it's always best to use large mugs to avoid overflowing.
Step 2: Wet ingredients
Add your wet ingredients: Egg, milk, vegetable or sunflower oil, then mix until smooth. Throw in your choice of toppings and stir to loosely incorporate everything.
Step 3: Cook
Microwave on high for 1.5 - 2 minutes, until it has stopped rising and is firm to the touch. Top with ice cream for more decadence.
Do you want other sweet desserts recipes? Try Lime Mousse With Raspberry Coulis and Chocolate Roulade here.
Easy microwave milk tart recipe


Prep time: 5 min
Cooking time: 20 min
Serving: 6 people
Level: Moderate
Here's a spin on the famous South African milk tart dessert or melktert, a creamy milk custard with a biscuit base and cinnamon topping. It's usually baked in an oven, but using a microwave gives you the same level of deliciousness at less effort.
Rich, silky, and every bit of comforting, try this easy microwave milk tart recipe as a midday pick-me-up, best paired with tea.
Ingredients:
Crust:
½ packet Tennis/ Marie/ Nice/ Rich Tea biscuits
⅓ - ½ cup melted butter
2 tbsp desiccated coconut (only if you're using Rich Tea biscuits)

Custard:
1 can (397g) condensed milk
3 cans whole milk (Using the empty can of condensed milk, measure 3 cans of milk)
4 tbsp corn flour
1 egg
1 tbsp vanilla essence or 1 tsp vanilla bean paste
Ground cinnamon

Step 1: Make the biscuit base
Crush the biscuits and mix with melted butter. Gently press the crumb mixture on the sides and base of a standard pie dish. If you're using Rich Tea biscuits, top with desiccated coconut. Place in the fridge to set.
Step 2: Combine everything
In a microwave-safe bowl, whisk together condensed milk, whole milk, egg, and corn flour. Microwave on full power for four minutes.
Step 3: Cook the custard
Remove the bowl from the microwave and whisk vigorously. Return to the microwave and whisk every two minutes until it thickens. This will take about 12-15 minutes. To test its consistency, scoop a small portion of the custard. If it stands, it's cooked and ready.
Step 4: Finishing touches
Add the vanilla essence or vanilla bean paste, then stir for one last time.
Step 5: Assemble
Pour the custard on the biscuit base, then sprinkle with cinnamon. Refrigerate overnight.
Love this recipe? Try another yummy cake recipe for Bagels here.


How to cook chicken stew and dumplings in the microwave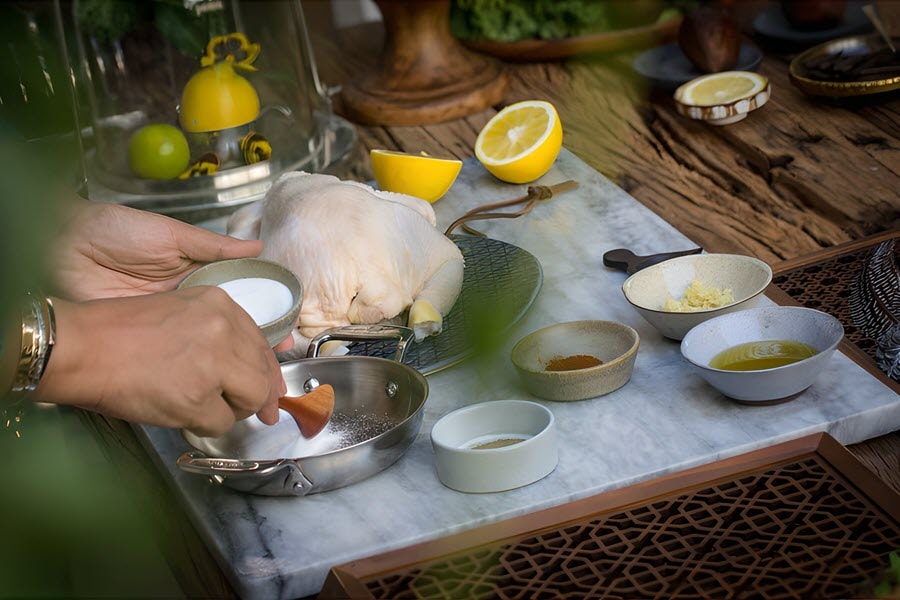 Prep time: 20 min
Cooking time: 18 min
Serving: 6 people
Level: Moderate
The quintessential comfort food, cooked comfortably — in less than an hour, with only a microwave. Indulge in the heartiness of the chicken stew and the tender chewiness of the dumplings.
Best to use a heat proof dish with a lid as you'll be repeatedly covering and uncovering it while it cooks in the microwave.
Ingredients:
Stew:
⅔ can (253g) evaporated milk
3½ tbsp corn flour
1½ cups chicken stock
1 small onion, diced
1 clove garlic, finely chopped
¼ tsp each salt and pepper
2 cups shredded rotisserie chicken
1 cup frozen peas and carrots
½ tsp paprika (optional)

Dumplings:
1 cup self-raising flour
⅓ can (127g) evaporated milk
¼ tsp each salt and pepper

Step 1: Mix the stew
Whisk together corn flour and some of the evaporated milk to reduce the lumps. When smooth, add the rest of the milk, the stock, onions, garlic, and salt and pepper to taste. For extra flavour and colour, add paprika.
Step 2: Cook the stew
Cover the dish with a lid or a pierced plastic wrap. Microwave on high for six minutes. Remove and whisk to remove lumps. Microwave again for five to six minutes, this time, uncovered.
Step 4: Make the dumpling mixture
Mix flour, evaporated milk, salt and pepper until it forms a dough.
Step 5: Shape dumplings into balls
Preferably with an ice cream scooper, scoop the dough into balls and place them on top of the stew, spacing them out so they don't stick to each other. Add the chicken, frozen peas and carrots.
Step 6: Cook the dumplings
Cover the dish, and cook in the microwave on high for six minutes or until the dumplings have puffed. To check if the dumplings are cooked, poke them with a skewer and it should come clean. Garnish with parsley. Serve.
You may also love our Purple Cabbage Dumplings and Steamed Spring Rolls recipes.
How to make egg fried rice in the microwave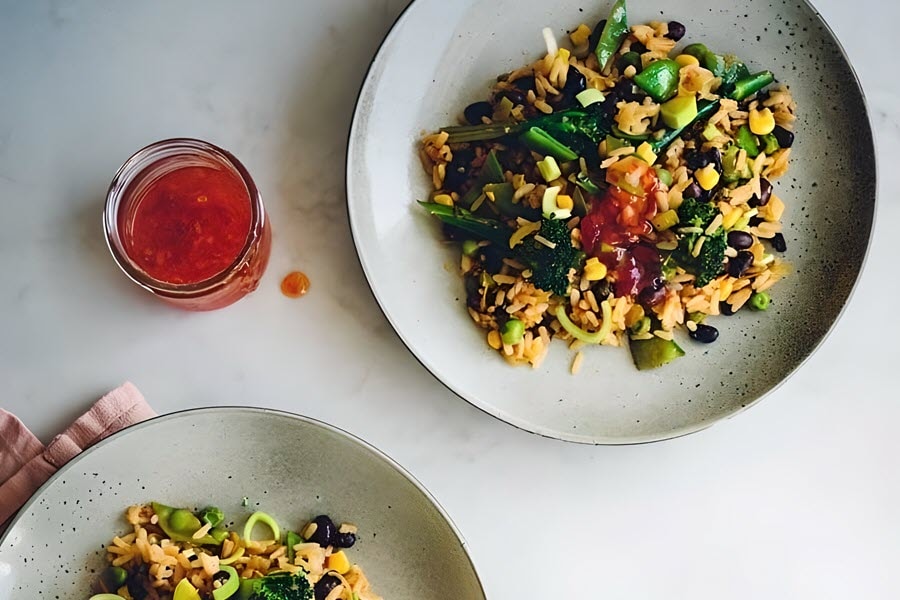 Prep time: 10 min
Cooking time: 3 min
Serving: 1 person
Level: Easy
Make easy, easier — quick, quicker. With just a touch of a few buttons, achieve a full meal with vegetables and protein that will satisfy your cravings, especially on a busy day. Need an even quicker alternative? Use frozen vegetables instead.
Ingredients:
1 egg
125g day-old rice
1 tsp oil
½ cup chopped vegetables (carrots, bell peppers, green peas)
1 tsp soy sauce
½ tsp sesame oil
Finely chopped spring onions for garnish
Salt and pepper to taste

Step 1: Cook the egg
Since the egg will expand, choose a microwave-safe bowl that's big enough. Oil the bowl and add the beaten egg, then season. Cover with a piece of kitchen paper, and microwave for one minute. Using a fork, shred into bite-sized pieces. Set aside.
Step 2: Mix the rice
In a separate bowl, mix rice, vegetables, soy sauce, sesame oil, and water. Microwave on high for about two minutes.
Step 3: Assemble
Toss in the egg, and garnish with spring onions. Voilà, you managed to cook egg fried rice in a microwave.
If you love rice, try Popped Amaranth Seeds And Black Rice, also easy to cook and delicious.
How to choose a microwave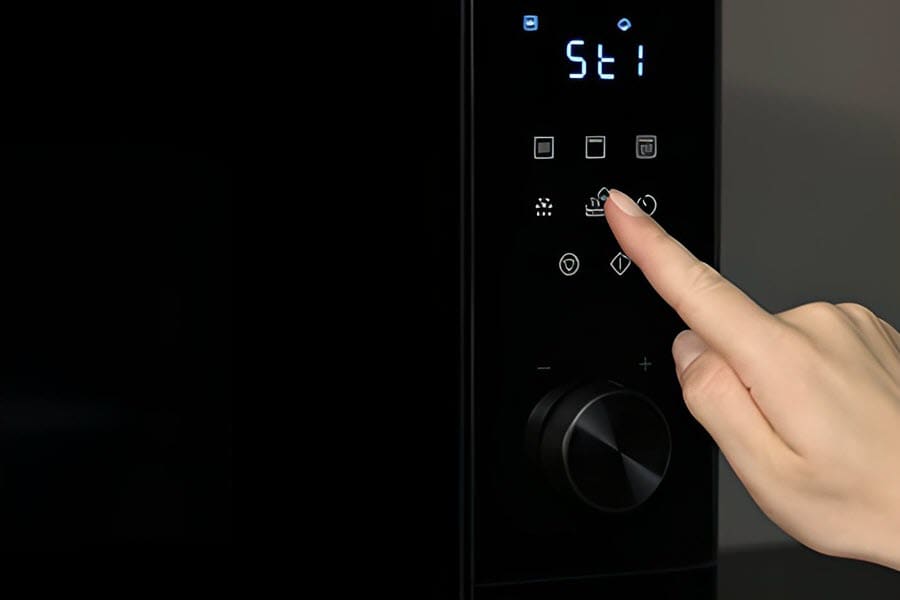 1. What microwave Wattage do you need?

The higher the wattage, the faster the cooking time. A microwave that has a power capacity of at least 1,000 watts will efficiently and evenly heat your food.
2. Choose the right size of microwave oven

Consider both the external and internal dimensions of the microwave. How much space can you allot for it? Measure the width, depth, and height for a snug fit on your kitchen counter or in your microwave compartment.
Also, consider the size of your cookware and the usual dishes you'll be cooking. If your household loves casseroles or pizzas, choose models with bigger cavities. AEG microwaves have large internal capacities, ranging from 26L to 42L, to fit the needs of families or large groups.
3. Multi-purpose features

To save space, look for multi-purpose microwaves that combine the abilities of two appliances into one. AEG models with CombiGrill double as a microwave and a grill that can recreate the textures of slow oven cooking, whilst quickly giving your dish a crisp golden topping. No need for an oven or a torch to crisp up your lasagne and crème brûlée.
4. Choose a microwave oven that is easy to clean

Even if splatters and drips are expected in a microwave, why settle? Some AEG microwaves have an internal cavity coating that makes it easy for you to wipe off accidental spillages without too much scrubbing.
Their exteriors also have an anti-fingerprint stainless steel finish that enhances durability and prevents dirty marks from sticking to the surface. Maintain its sleek and stylish design — easier and longer.
There are many things you should consider when buying a microwave oven, so this buying guide will help you find the right one.


Where will your culinary creativity take you?

If you can easily master these dishes with a microwave, what more can you do with other recipes? For your next masterpiece, get inspiration from the best recipes that AEG has especially curated for you.
All the lastest from AEG
From tips to styling for the best lunch, to how you can take taste further with AEG, we want to ensure you have the right tools to create exceptional taste experiences.