HOW TO CHOOSE DRYER CAPACITY
1 - 2 People
A 5kg or smaller dryer suits single or small households fitting at maximum load of around 5 outfits or 5 towels per load.
3 - 4 People
A 5kg or 7kg dryer suits medium households, fitting 5 - 7 outfits or 5 - 7 towels per load.
5+ People
A 8kg or bigger dryer suits large households, fitting 8+ outfits or 8+ towels per load.
WHAT TYPE OF TUMBLE DRYERS IS BEST FOR YOU?
Heat pump dryer
Venting dryer
Condenser dryer
Heat Pump Dryer
A moisture-free, superior performance model, heat pump dryers recycle warm air, making them the most energy efficient option, while also offering lower temperatures and noise levels. This means you can position these dryers wherever you need them.
An 8 star way to dry
AEG's innovative SensiDry heat pump technology means clothing dries at almost half the temperature of conventional dryers, protecting your apparel from unnecessary heat. By using temperate air and monitoring sensors, SensiDry dryers offer an 8 out of 10 star energy rating.
Unprecedented protection
Programs in AEG's leading ProTex System preserve each fiber's unique look and feel, by combining an exact drum movement with an accurate temperature. With this technology, your clothes benefit from the exact airflow and have more space to be kept flat and less tangled.

Adaptable technology
Time, water and energy consumption are minimised with AEG's ProSense technology. Through advanced humidity and temperature sensors which monitor and accommodate load types, all laundry is handled optimally.
Woolcare you can trust
Independently tested, the Woolmark Blue certification is awarded only to dryers deemed safe against shrinkage or damage to hand wash only wool garments.

Venting Dryer
For large households that go through multiple loads every day or minimalist-driven capsule wardrobe owners, laundry can be stressful when you're reliant on unpredictable weather conditions. Venting dryers are your best choice as they are an economical option to achieve the fastest drying speed and turnaround time for multiple loads, so you can wash heavy laundry loads and store them right away with minimal fuss.

However, you need to install a ducting hose to vent out the hot and damp air from the dryer if it is placed in an enclosed room like a kitchen or storeroom.
Reduce wrinkles by 1/3*
AEG's reverse tumbling drum action means that the drum spins in both clockwise and anti-clockwise directions during the drying cycle. This technology can prevents clothes from tangling and reduce creasing and wrinkles on your clothes by up to 1/3 compared to line drying.
80% less colour fading*
Instead of drying your clothes in the sun, which can damage the colours, just trust our AEG dryer. Your favourites can be vibrant for longer, reds stay rich, and blacks stay black with up to 80% less colour fading.
*80% less colour fading vs. sun drying – tested and certified by UL

Ideal cycles with smart sensors
Smart Sensors can measure the dryness of clothes during the cycle. This can protect your garments from exposing to unnecessary heat, reduces wear and tear, and maintain their look and feel for longer.
Revitalise clothes with vapour
VapourRefresh feature uses the power of steam to revitalize clothes and smooth out creases with very little water. Hence, your garment will be refreshed and reduce wrinkles up to 23% compared to air drying.
Condenser dryer
By withdrawing the warm air from wet clothes that collects in a removable drawer, condenser dryers work without the need for any outside venting. This straightforward setup means any well-ventilated room can house them.
Clever space maximising layouts take the difficulty out of sorting your laundry. Dryers can be paired with their matching washing machine for a uniform look, either sat level to each other, wall mounted or stacked using a kit if opting for a front-loader. If your home can't house a separate laundry, integrating into the kitchen or bathroom behind the cabinetry is a smart option.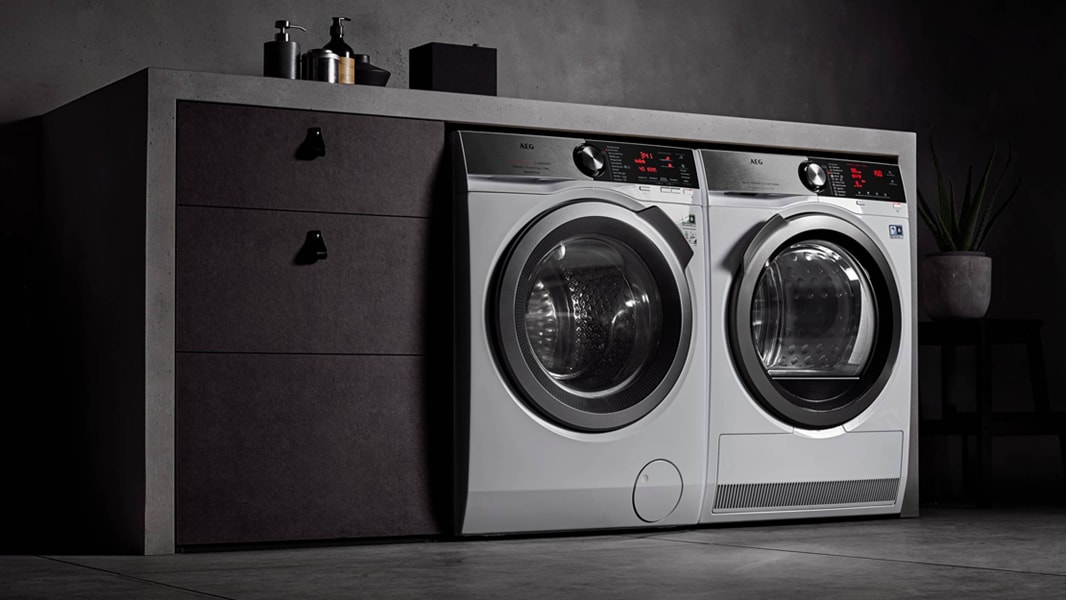 INSTALLATION
Tumble dryers need two things for installation, a power source and well-ventilated room. To prevent condensation and any mould growth, set up your dryer close to a window or use an exhaust fan. If ventilation isn't an option, consider a heat pump condenser dryer.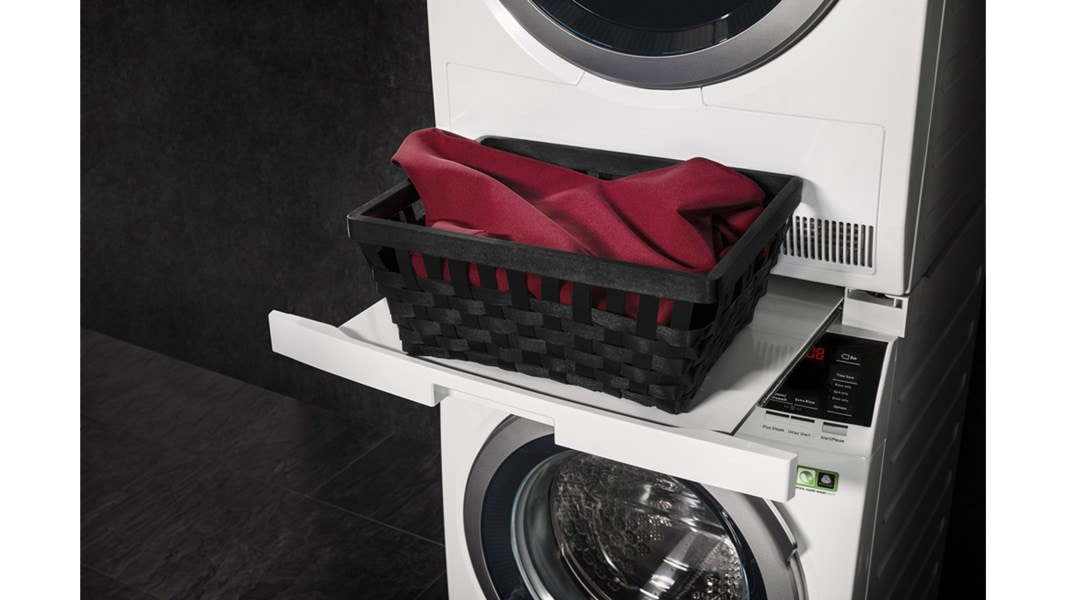 CARE
To maintain the high performance of your AEG dryer, clean the lint filter after each load, regularly wipe down the drum and empty the exhaust duct yearly.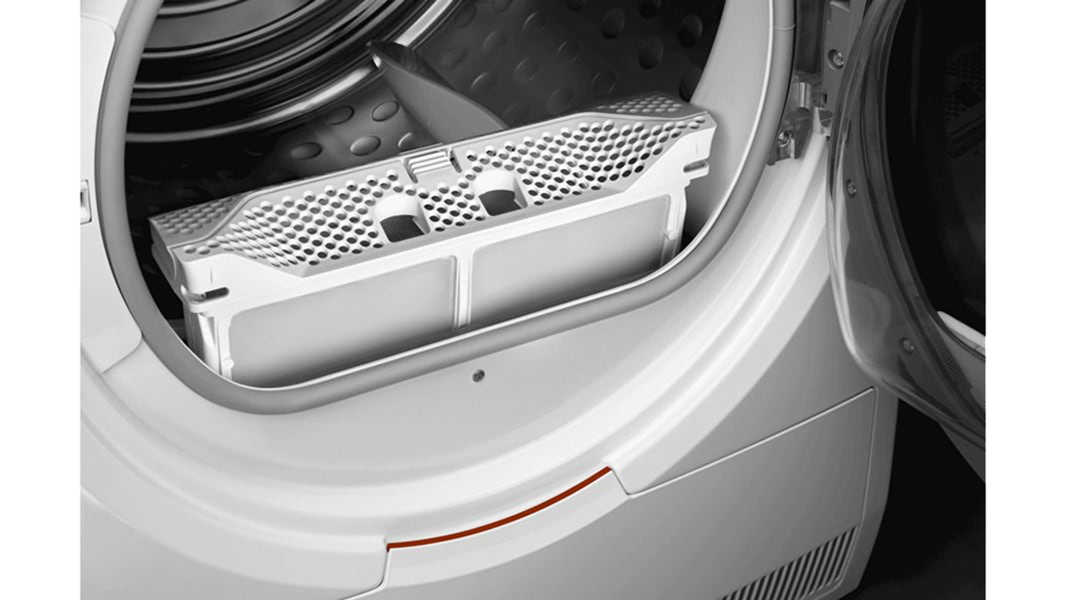 DRYER FREQUENTLY ASKED QUESTIONS
Question 1: Does a dryer consume a lot of electricity when it is used?

To fully utilize the electricity consumption under each dry, it is recommended to dry your clothes at maximum load. For better energy efficiency, we recommend the Heat Pump dryer.

The Heat Pump dryer saves up to 50% more energy compared to a traditional dryer. It works by heating air in a closed-circuit system, passes it over clothes and recycles the hot air to be used in drying the laundry.

Question 2: How long does a dryer dry a full load of clothing after washing?

There are several factors that contribute to the overall drying time. One of the key factors is how much moisture is left in the clothing after your washing cycle. The faster the spin speed during the washing cycle, the faster the clothes will dry in the dryer as there is less moisture remaining in the clothing after the final spin.

Another factor is the movement of the drum during drying process. Thanks to the AEG Reverse Tumbling Technology, the drum rotates in the reverse action alternatively so that the laundry dries more quickly and evenly.

Question 3: How does the Condenser dryer work if we do not have to install a ducting hose?

In the Condenser dryer, the hot and damp air will pass through and being cooled down by a Heat Exchanger. This process will convert the moisture in the air to become water droplets which will then be stored in the top water drawer and the hot air will also be cooled down and exhausted out as warm dry air.
Register
Register your appliance today to stay updated on exclusive offers, services and safety notices.
FAQs
Our Frequently Asked Questions are here to help you know all you need to about the use, maintenance and care of your AEG appliances.
Support
Having trouble with your appliance? Looking for a manual? Head to our support page we are here to help.