AEG hobs are equipped with technology that makes it easier for you to clean them. With this, together with effective cleaning techniques, you'll be able to elevate your cooking to the next level.
Know how to clean a gas hob or gas stovetop of a freestanding stove with this step-by-step guide that walks you through each part: The gas hob grates, gas hob burners, surface of gas hob.
Briefly, these are instructions on how to clean gas burner of a gas hob or stove:
1. Read the user manual carefully
2. Remove the burnder caps and heads
3. Soak these parts to soften
4. Clean burner orife
5. Scrub the burner parts
6. Rinse and dry
7. Reassemble them


What you'll need
Microfibre cloths
Soft cloths
Liquid dishwashing soap
Water
Non-metal nylon brush
Old toothbrush
Scraper
Basin
Hob cleaner (depending on your hob):

For a ceramic or glass hob: Vitro Care Hob Cleaner or any cream cleaner
For a stainless steel hob: Stainless Steel Cream or any cleaner for stainless steel appliances
Before you start, wait for the hob to completely cool. This ensures your safety and lessens the risk of damaging your hob. A drop of cleaner on a hot cooktop can burn and leave marks.
How to clean gas hob grates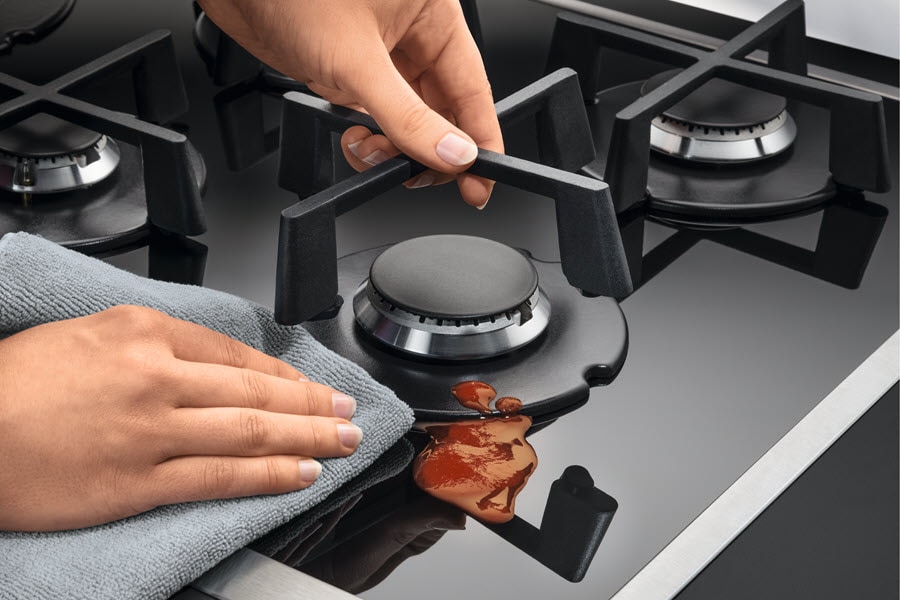 1. Lift the grates

Make sure the grates have completely cooled. They should easily come off the hob - no fiddling or unhinging needed.
2. Soak in a soapy solution

In your sink, bathtub or a basin that's big enough, mix one tablespoon of dishwashing liquid and hot water. Soak your hob grates for 10 minutes. This will loosen caked-on residue and will cut through grease.
3. Get scrubbing

With a cloth or non-metal nylon brush, scrub off any remaining food bits, being mindful of the corners. Since they're cast iron, avoid using abrasive materials that can damage the coating, like steel wool or metallic scouring pads.
4. Get a boost

For heavily soiled pan supports, effectively remove gunk using the Vitro Care Hob Cleaner. Its non-scratch formula removes even the toughest burnt-on food bits, while it leaves a protective film on your grates.
5. Dry immediately

Don't let rust form on your cast iron grates. Wipe them with a soft cloth, then carefully place them back on the hob. Turn the heat on for a few seconds so they completely dry.
How to clean the gas hob burner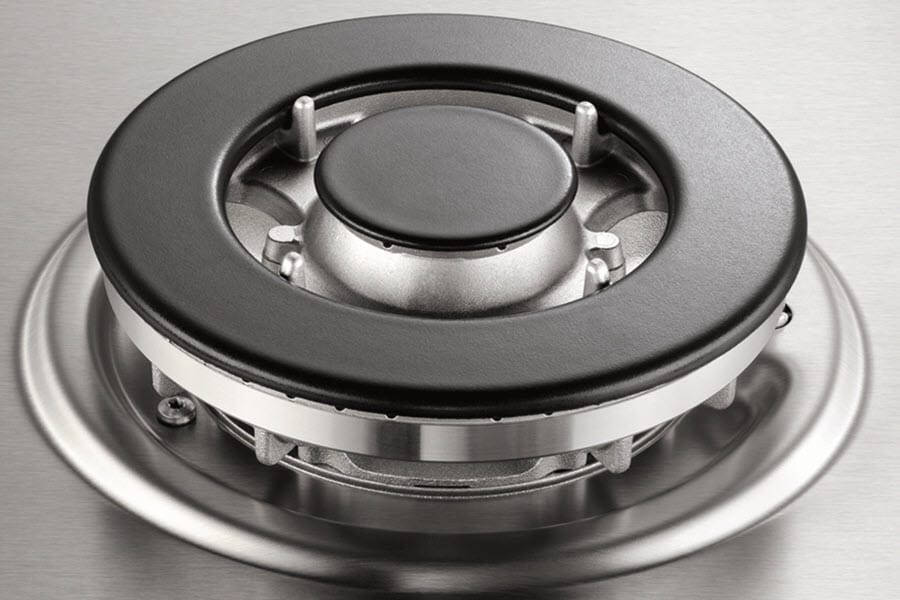 1. Safety first

Some manufacturers may require you to switch off your gas valve. Check your manual first, or enter your model number online to find the instructions.
2. Remove burner parts

Standard gas hobs will have removable burner heads and burner caps. Simply lift them straight up from the burner orifice.
3. Soak to soften

In a solution of liquid dish soap and warm water, let the burner parts sit for 30 minutes. This softens burnt-on residue so scrubbing later is easier. While you wait, move to the next step.
4. Clean burner orifice

Clean the gas burner hole with a moist cloth, including the spark plug and flame safety device. Remove the crumbs that have settled in the nooks and crannies to ensure there are no clogs left.
5. Scrub the burner parts

Scrub off the remaining residue using a non-abrasive scrub pad or an old toothbrush. If there are food bits stuck in the crevices, use a straightened paper clip to get them out — not a toothpick as it may break off and clog the ports.
6. Rinse and dry

Wash all the burner parts, then dry with a clean cloth.
How to clean the surface of your gas hob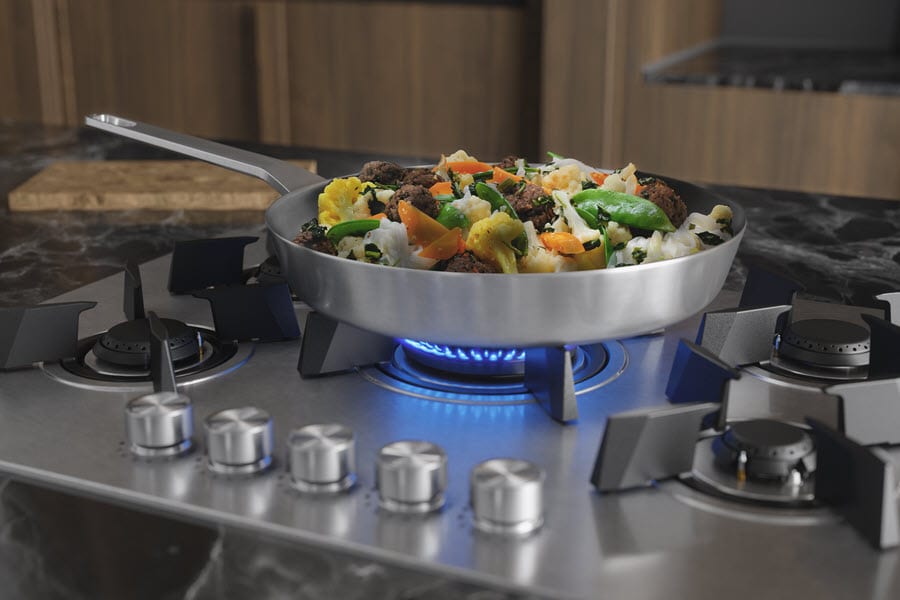 How to clean a stainless steel surface

Not only does stainless steel give sophistication to your kitchen, it's also durable and fingerprint resistant, so maintaining its finish is key. Your main tool? Microfibre cloths. Their fine fibres don't leave scratches and effectively pick up dirt faster. Avoid abrasive brushes and acidic cleaners that can easily damage them.
It's best to use a cleaner specially formulated for the job like the Stainless Steel Cream. This ensures that your hob is protected from streaks and future soils, and that it maintains its sleek shine for longer. If not on hand, you can use warm soapy water instead.
Your cleaning motion is equally important. Always wipe in the direction of the grain - never against or in circular motions. This will prevent streaks. Afterwards, instead of air-drying, buff thoroughly with a clean microfibre cloth for added shine.
How to clean a glass and ceramic surface of gas hob

When you maintain the smooth seamless surface of your glass and ceramic cooktop, you maintain the elegance of your kitchen. That's why being gentle is vital in preventing micro-scratches. Choose soft cloths instead of metal pads, cream cleaners instead of abrasive ones, light circular motions instead of heavy pressure.
Put a tiny dollop of Vitro Care Hob Cleaner on the surface and gently work it in circular motions using a soft cloth. Spray some water to rinse, then buff dry with a clean cloth.
Ensure no residue is left, otherwise, it will burn on the surface.
For stubborn stains, lay a hot, moist towel on the surface. This should loosen the crud so you can easily scrape it off. To prevent discolouration and heavy buildup, clean spills promptly, especially sugary substances which can leave permanent marks.
Additional tips on how to remove grease from hob

If you're still struggling to remove grease, you can repeat the application of warm soapy water or cream cleaner until there are no traces of oil left. Make sure you're using a grease-cutting dishwashing liquid.
If you want to try other cleaning solutions, it's recommended to choose commercially-available degreasers, being mindful of their compatibility with the material of your hob. For example, vinegar and solutions for stainless steel sinks or cookware can be too abrasive for stainless steel hobs.
How to prevent dirt buildup on gas hob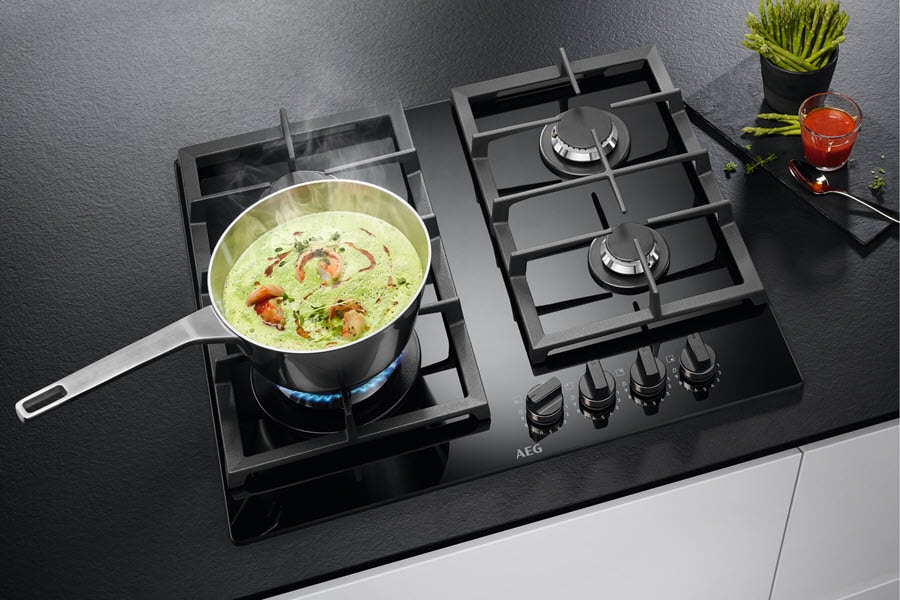 How often to clean your hob depends on how often you use it. Once a month will suffice for the occasional cook, while once a week may be needed for the family chef.
Clean messes immediately and give your hob a good wipe down everytime after you cook. This will make deep cleaning easier and faster for your future self.
If you're the type who likes to fry food or make sauces, consider splatter guards and always cover the pan if possible. Don't let liquids boil over.
It's not you - it's your hob

The difference between exquisite creations and mediocre meals could merely be a clean appliance. Now that you've mastered how to clean your gas hob, notice how you have more control over the heat and how you can evenly cook dishes every time.
All these are made easier when you maintain good cleaning habits — even better when you choose an AEG hob that makes cleaning so effortless.

Discover more:
FAQs about how to clean gas stovetop / gas hob
Why is my gas stove flame too low?

If your gas stove/hob flame is too weak, it may be because the burner head is dirty. The burner head is often surrounded by small slots so that the gas can come out to produce flames. For this reason, if the burner is clogged, the flame may become uneven and low.

How do I make my gas stove flame higher?

Here are several ways to make your gas stove flame higher:


Method 1:

Find the burner knob position
Turn off the burner and then remove the burner cap
Adjust the air shutter to let more air into the burner (the air shutter is a small metal tab near the base of the burner head)
Turn the burner knob
Replace the burner cap and test the flame


Method 2:

Remove the metal grates so you can see the flame better
Turn the burner on and set it to the low setting all the way to the 'stop'.
Remove the knob and adjust the low flame adjustment screw counterclockwise to increase the flame size.
All the lastest from AEG
From tips to styling for the best lunch, to how you can take taste further with AEG, we want to ensure you have the right tools to create exceptional taste experiences.