Procedure
Slice the shiitake mushroom thinly.

Spread the sliced mushroom onto two tray.

Put the trays in the oven and let them dry in the SenseCook oven overnight at 45°C.

Remove trays, and blend the dried mushroom into a fine powder with the Gourmet Pro Blender.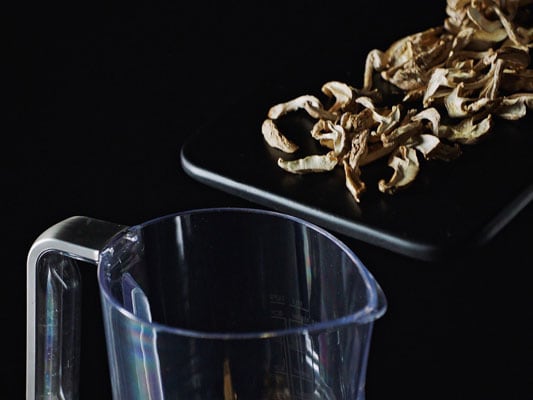 GOURMET PRO BLENDER
PowerTilt innovation brings the best out of both ingredients and your cooking. The secret is in the combination of EM.6. Titanium-coated blades, a precision tilted Tritan carafe and a powerful 1200W surge motor – creating superior smooth, great tasting results.


SENSECOOK OVEN
Introducing your new sous chef. Your new tool in the search for the juiciest rack of lamb, the most tender fillet of salmon. Use the FoodSensor to tell the oven how you want your dish cooked – using just the words you would in a restaurant – rare, medium, well done.
For the first time, you can trust that the SenseCook oven understands the result you want, just from the words you choose. Without even opening the oven door, everything from tender joints of meat to molten chocolate fondants are controlled and mastered. At last, an oven that speaks your language.
Discover SenseCook Oven