Ingredients
Bao buns
1½ teaspoons of sugar

1 teaspoon of yeast

50 ml of milk

1 tablespoon of rapeseed oil

1 tablespoon of vinegar

200 ml of water

525g of flour

1 tablespoon of baking soda

2 tablespoons of rapeseed oil for brushing
Steamed and glazed (twice cooked) jackfruit
Jackfruit

Scallions

Carrots

Glaze

1 tablespoon finely grated garlic

1 tablespoon finely grated ginger

1 tablespoon of rapeseed oil

2 tablespoons of sesame oil

2 tablespoons of Goujuang (Korean Chilipasta)

2 tablespoons of dark muscovado sugar

2 tablespoons of soy sauce

2 tablespoons of vinegar
Procedure
Bao buns
Mix the yeast with sugar, milk, oil, and vinegar. Add water and flour, mix in the GourmetPro Blender for about 7 minutes.


Let it rise for about 2 hours.

Remove the dough and knead it on a floured surface.

Plate and sprinkle baking soda.

Knead again.

Form the dough into a smooth roll and divide into 18 equal pieces. Form each piece into a ball.

Carefully roll each ball to be about 5 mm thick. Brush each with a little oil.

Cut a sheet of baking paper into 18 pieces of equal size. Take each ball of dough and fold it over the cut paper, so it forms a semi-fold over the paper like a taco shell.

Place on a steam tray covered with baking paper and cover with a towel. Allow to rise for about 1 hour.

Place in the SteamPro oven on Full Steam for about 8 minutes.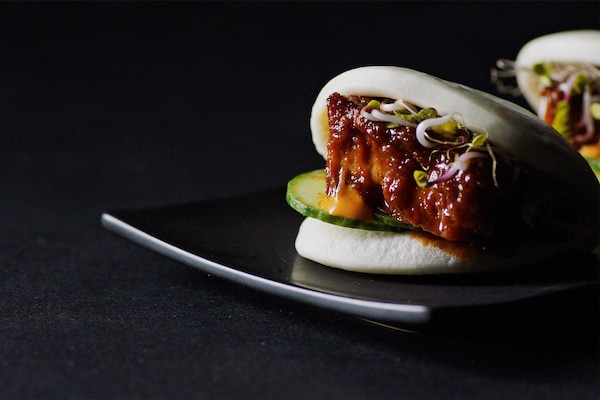 STEAMPRO OVEN
Every meal should be an experience. With that in mind we created the SteamPro oven. It has three cooking modes - heat, steam and a combination of both. In the combination mode it will calculate exactly the right combination of heat and steam automatically. Which means golden and crisp will be consistently achieved on the outside while food is always juicy and succulent on the inside.
Whether you're roasting or grilling meats, baking bread, creating delicate desserts or using the SousVide feature which we provide to professional restaurants around the world- you can be confident your cooking will be elevated to another level.
Discover Our SteamPro Ovens



Steamed and glazed (twice cooked) jackfruit

Set SteamPro oven for Full Steam at 90°C.

Place cored jackfruit pieces on an oven tray and steam for about 10 minutes.

Add 1 tablespoon of rapeseed oil to a saucepan on low heat.

Gently fry garlic and ginger in the saucepan.

Add the remaining glaze ingredients, and bring to boil for 5 minutes.

Set the SteamPro oven to 210°C on the True Fan Cooking program.

Brush the steamed jackfruit pieces with the glaze and bake in the oven for about 15 minutes.

Fill Bao with glazed jackfruit, sliced spring onion and shredded carrot.

MAXISENSE PURE HOB
Imagine a glossy sheet of pure ebony glass that blends seamlessly with your worktop. Its cooking zones and touch controls are invisible until your fingertips bring them to life. The AEG MaxiSense Pure hob combines a sleek design with responsive functions, transforming your kitchen and turning cooking into a true pleasure.
Discover Our MaxiSense Pure Hobs