Ingredients
Parmesan-gratinated cauliflower
2 cauliflower heads

1 teaspoon of pepper powder

1 teaspoon of smoked paprika powder

1 teaspoon of salt

2 tablespoons of dijon soup

2 tablespoons of neutral rapeseed oil

100g of peeled parmesan cheese
Cauliflower salad
Cauliflower head tops

2 tablespoons of apple cider vinegar

1 tablespoon of tahini

1 teaspoon of finely grated garlic

½ teaspoon of salt

50 ml of rapeseed oil

1 tablespoon of water
Garnish
Handful of grated mint leaves

1 tablespoon of pomegranate seeds
Procedure
Parmesan-gratinated cauliflower
Place the cauliflower head on oven tray. Steam in the SteamBoost oven for about 30 minutes on Full Steam.




Take out the cauliflower, put it on a tray covered with baking paper.




Brush the cauliflower with mustard.




Sprinkle over spices of salt and parmesan. Dress it with oil.




Set the oven to Grill at 200° C. Bake cauliflower for 15 minutes.




Take out and slice into wedges.

with a piece of string. Leave to rest at room temperature for 1 hour.

Baked cauliflower sticks

Cut out the cauliflower heart stem, and slice into strips about the size you like your french fries.




Set the SteamBoost oven to Turbo Grill at 230°C. Sprinkle some oil, sea salt, and smoked paprika powder.




Let it bake for about 10-15 minutes, depending on the thickness of strips (thinker = longer in oven).

Cauliflower salad

Set the SteamBoost oven to True Fan Cooking at 175°C.




Shred the leaves well. Put on a tray covered with baking paper.




Brush on the cauliflower head, sprinkle some salt.




Place the tray in the oven for 10 minutes.




Put it on a platter, pour the dressing, and garnish with pomegranate and mint.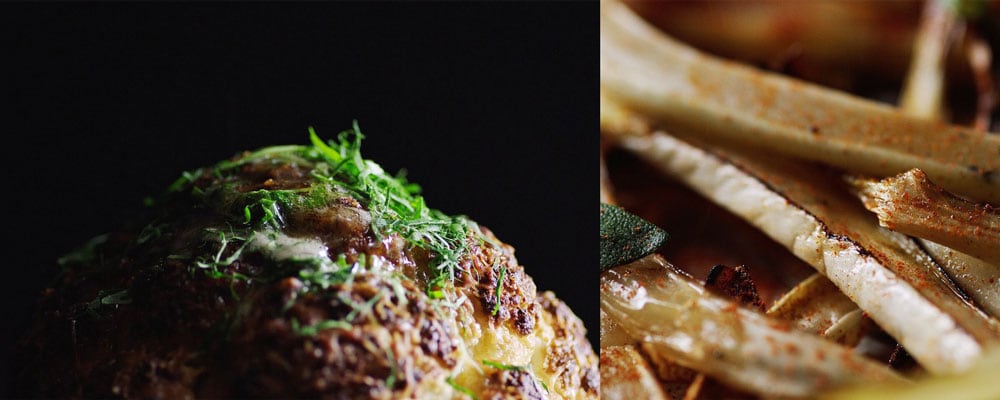 STEAMBOOST OVEN
The SteamBoost oven with FullSteam function makes more of the flavours within your food. It works in exactly the same way as a traditional oven, with the added benefit of steam. And this is where food gets really exciting because heat, of course, browns and crisps.
The introduction of steam makes all the difference. Locking in the natural moisture to deliver a whole range of juicy and succulent dishes including meat, fish, casseroles and vegetables - even desserts. It's all about taste, and lots of it.
Discover Our SteamBoost Ovens